A recent study of CFOs reported that payment digitization is "playing a key role in broader strategies" for driving improvements to overall financial health. In the survey, 38% of respondents stated they sped up initiatives related to payment digitization to improve their bottom line. If you are not one of the 38% and use Acumatica as your ERP, you should consider doing the same. You can enable long-term improvements in operations, speed time to revenue, cut costs, AND improve cash flow by implementing integrated Acumatica payments.
Lower Costs with Integrated Acumatica Payments
According to the survey, nearly all firms stated they see fewer payments via cash or checks and more digital payments than before the pandemic. When conducting business-to-business transactions, often commercial cards are used for payment. You can cut processing costs on commercial cards via Integrated Acumatica payments by leveraging Level 3 payment processing.
What is Level 3 Processing?
The term Level 3, or Level III, refers to the amount of detail you transmit along with a payment transaction. The higher the level, the more details you are required to submit. However, the higher the tier you use the lower the interchange rates are on your transaction. Lower interchange rates mean saving money on your transaction processing.
In exhibit 1 below you can see the requirements for Level 3 processing. It requires the 11 transaction details in order to qualify for the best possible rates. Level 2 processing with higher exchange rates only requires 5 transaction details. Lastly, the most basic (and costly) option is Level 1; requiring only 3 transaction details.
Exhibit 1: Required Details by Processing Level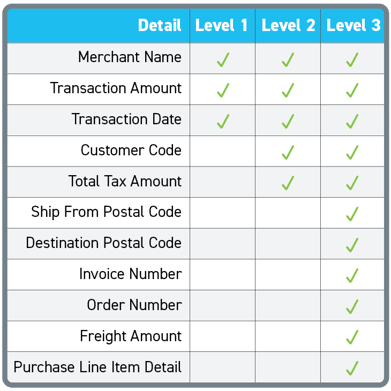 When your customer presents any commercial card that is issued by a business or government agency much of the data you'll need for Level 3 is already included. With Integrated Acumatica Payments the other data such as the transaction amount, date, customer code, invoice number, order number, etc., is pulled automatically from your accounting system.
Paya's Acumatica payments solution is fully integrated; providing Level 3 transaction detail without any additional steps. Integrated Acumatica Payments automatically maps the data and seamlessly transmits it with the transaction so you qualify for the lowest, Level 3 transaction rates. Paya customers often see a significant drop in transaction rates on corporate and government cards.
There are several other benefits of implementing Paya's Integrated Acumatica Payments solution beyond saving money with lower exchange rates. It activates payment features built into Acumatica to provide real-time cash flow visibility, speeds remit times, and eliminates manual entry. In addition, you'll get access to Paya's team of industry experts to help you grow your business. Here are a few of the many benefits you get with Paya's integrated Acumatica payments.
ACH Processing - Built-in Integrated ACH enables faster customer payment cycles
EMV® Integration - Count on Paya's encrypted, PCI-compliant Acumatica integration
Flexible Pricing Options - Flat rate, interchange, pass-through, cost plus, and tiered
Payment Center - Increase cash flow by accepting ACH, Check 21, credit/debit cards, auto-payment of partial/full/recurring invoices, and other options
Acumatica Automatic Level 3 Data Enrichment - Helps qualify for lower processing rates
Paya's Advanced Fraud Protection - Our proprietary fraud database and tokenization of transaction data help to minimize fraud
Easy installation and set-up, no long-term contracts, outstanding support
"Click to Pay" links on an emailed invoice
A web-scale, PCI-compliant, highly-secure transaction platform for payment processing
Financial health monitoring through comprehensive, customizable reporting
Auto-payment of recurring invoices
Start Saving Today with Integrated Acumatica Payments from Paya and Their Team of Payment Experts
With more than 25 years of industry experience and 2,000+ industry customers and partners, Paya is the leader in delivering simpler, more efficient, and deeply integrated payment solutions. Paya is committed to delivering best-in-class integrated payment solutions for Acumatica Cloud ERP.
At Paya we are unique from our competitors because we place particular emphasis on solutions engineering and engaging our domain experts early in the solution process. Through a collaborative but simple hands-on process, we develop a deep understanding of our partners' current processes, pain points and requirements to ensure you get a platform and system with the capabilities you need. Paya has enabled hundreds of businesses to optimize billing and invoice processes, deliver more payment options and greater flexibility to their customers, and improve back-office efficiencies.

Contact our Paya team to schedule a free consultation today!

Learn more about how our credit card processing experts, solutions, and processes can benefit your organization and save you money!!